Magnetic Processing
MAGNETIC PROCESSING
REE minerals, and the REEs themselves, excluding La and Lu, are magnetic. In contrast, the usual gangue minerals in a rare earth orebody, such as calcite, quartz, dolomite, feldspars, barite, fluorite, etc., are not. This difference in magnetic behavior provides for a mechanism of concentration upgrade/recovery, and can be used for the production of REE minerals.
The magnetic force felt by the REE minerals is related to both the magnetic field strength and how the magnetic field changes with distance. This process can be performed on both wet and dry ore materials, with dry processing usually minimized due to dust concerns.
This process has several requirements for efficient use, the essential one being the size and size distribution of the REE minerals being fed into the system. In mineral sands processing for monazite and xenotime, the natural mineral size distribution is usually quite narrow, so separating the feed into different size fractions is not necessary. However, with REE hard rock feeds, ground in ball mills, dividing the feed into several size fractions before magnetic processing leads to increased recovery.
The two main types of magnetic separators used are rare earth rollers and Wet High Intensity Magnetic Separator (WHIMS). Rare earth rollers utilize a round long magnet made of alternating plates of non- and magnetic material. Perhaps not surprising, the material used here is based upon rare earth-based NdFeB magnets – hence the name, "rare earth rollers". The dry material is fed using a thin belt over the REE roller, with the nonmagnetic material being flung off the belt when it turns, and the magnetic material sticking to the belt and being deflected into a concentrate bin.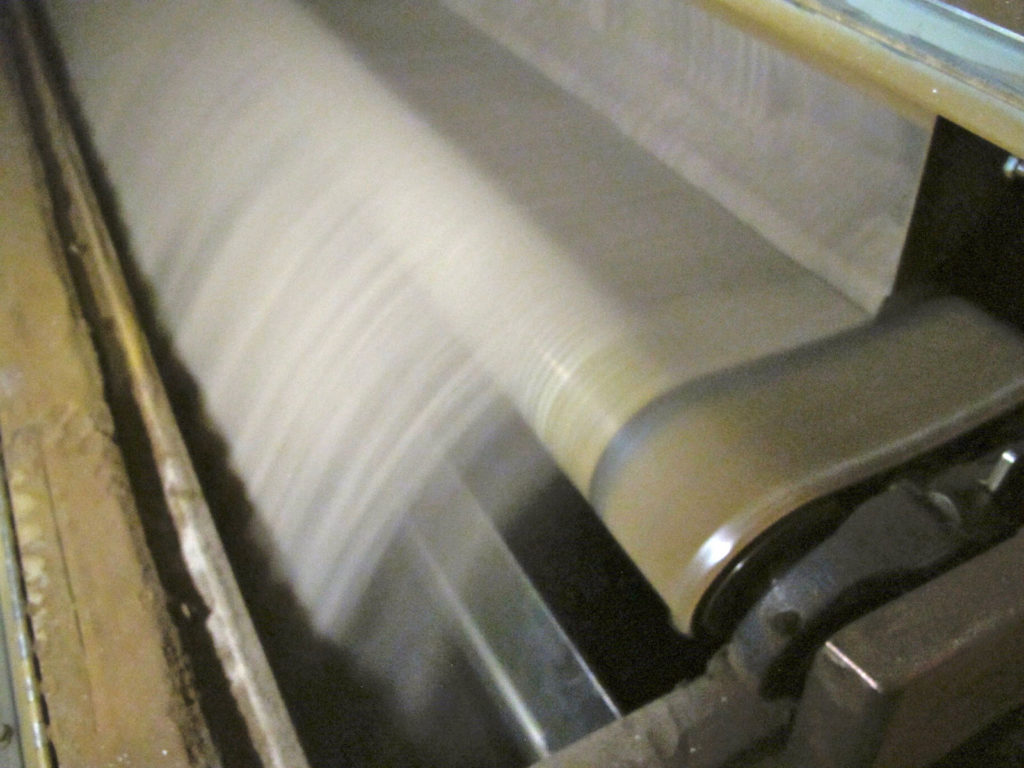 Magnetic separation with rare earth rollers in action
WHIMS is usually used for finer grained REE ores. A slurry of ground ore is passed through the magnetic zone of the WHIMS, which also contains what is termed a "matrix". This matrix modifies the magnetic field to better allow the REE minerals to attach to it, allowing the REE minerals to be separated from the gangue minerals. The matrix is then removed from the magnetic field, and water washed to remove the REE minerals from the matrix. These steps are repeated continuously.