Rare Earth Industry Hits Hong Kong in Record Numbers
By Clint Cox
Rare earth element (REE) conferences have become so commonplace that it has been said that the people making the most money in this industry are the conference organizers. While it may be true that there are a number of events trying to lure the rare earth crowd, the undisputed industry event of the year is the Metal Events Ltd and Roskill's Rare Earths Conference in Hong Kong, which set a new record for attendance at over 250! Hong Kong is a spectacular backdrop to the event held over 3 days, 9-11 November 2010.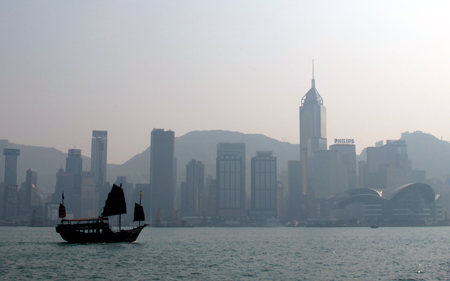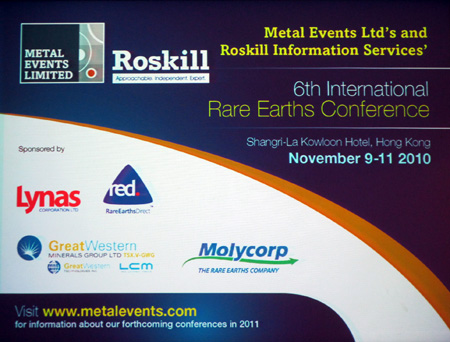 This year's event was held on the Kowloon side at the Shangri-La. The accommodations were great, and the buzz was fantastic, as over 250 delegates gathered and mingled to hear presentations, reminisce with old friends, give quotes to the media, and exchange business cards with new contacts.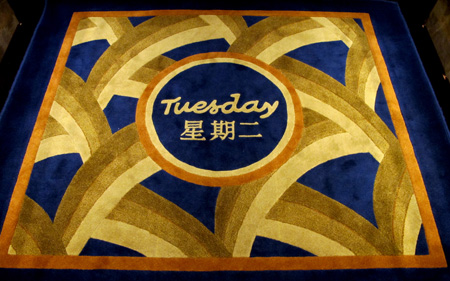 DAY ONE
One of my favorite features from hotels in China is the Midnight changing of the elevator carpet! I arrived on Sunday, but the event began Tuesday night with a cocktail reception in the basement of the Shangri-La. No big speeches or presentations, just cocktail chit-chat and lots of rare earth back and forth banter. I called it an early night so that I could pace myself for a busy three days!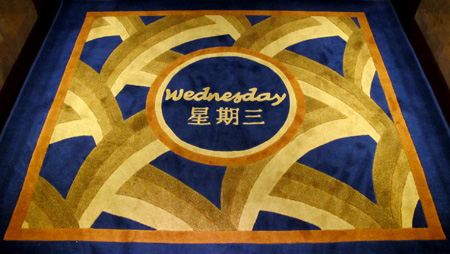 DAY TWO
The next morning, Rachel Carnac of Metal Events Ltd., convened the conference and immediately turned the stage over two of the industries most prominent voices: Judith Chegwidden of Roskill Information Services and Dudley Kingsnorth of Industrial Minerals Company of Australia (IMCOA). They had plenty to say, and here are some of the highlights:
The 120-150 REE companies in China will be reduced to 20-30
Polishing use has increased faster than anticipated
REE growth forecast has been reduced to 6-10% per annum for next 5 years
Multiple announcements by the Chinese has created uncertainty
There is predicted to be a shortage in 2015 of:
o neodymium (Nd)
o europium (Eu)
o terbium (Tb)
o dysprosium (Dy)
The only new projects onstream by 2015 will be
o Molycorp
o Lynas
o Alkane
o Japanese projects
Kingsnorth and Chegwidden did a splendid job of kicking off the conference!
Nicholas Curtis of Lynas Corporation spoke next, giving a highly anticipated update on the Mount Weld project entitled, "Lynas: Online in 2011 Delivering Rare Earths Globally". He began by speaking of the media attention that the industry has received lately saying, "We are no longer an esoteric club – we are mainstream". He also called for the formation of a global industry association. He spoke about expanding operations and volumes in what he deemed "phase 2", for which the engineering is already substantially done. Another good quote from Curtis was, "This is not a commodity industry, this is a chemical industry".
Next up was Mark Smith of Molycorp declaring the "Mine-to-magnets project is on time and on budget". They plan to produce lanthanum (La), cerium (Ce), praseodymium (Pr), Nd, samarium (Sm), Eu, gadolinium (Gd), Tb, and Dy by 2012. With REEs becoming a political hot button lately, Smith said that he recently spent 10 days educating the White House and State Department. Smith mentioned what it would take to usher in what he called the "Golden Era of Rare Earths":
1. Greater diversity of REE supply
2. Greater international cooperation
3. Advances in environmental technologies
4. New & innovative uses for rare earths
5. Emergence of rare earth recycling
6. Greater transparency & honesty from our industry
And that was the end of the power-packed first session.
Here is a view of the venue between sessions: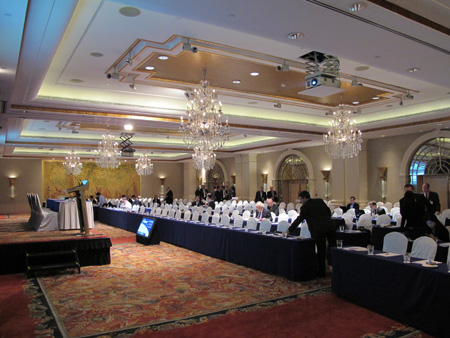 Gary Ragan of Albemarle Corp. gave a talk about fluid cracking catalysts (FCC) catalysts that I found captivating. In his words, "The idea is more gasoline out of a barrel of oil". He gave the history of FCC, beginning with the development of the industry in Baton Rouge in 1942. He showed a chart with the various technologies used over time and what they have added in terms of efficiency. He also did a wonderful job graphically displaying how it all works. La & Ce (as well as some others) are the principal elements in use. He addressed the recent quota cuts and its affect on the FCC industry saying that substitution may happen more quickly now, but "We can't schedule a breakthrough".
Patrick Chang of BASF further explored catalysis in his "Rare Earths: Strategic Raw Materials for Catalyst Aplications". He stated that about 20% of the REE market is catalysts (this extends beyond FCC to autocatalysts as well). He built on Ragan's previous FCC talk, stating that La provides thermal stability and selectivity to the fluid cracking process. Also, in regards to mobile emissions, the key REE ingredients are La, Ce, Pr, and Nd (this is in addition to the platinum group metals, or PGMs). The startling statistic of day goes to Chang with this tasty bit: "It would take 100 of today's cars to equal the pollution from 1 pre-1974 car". Wow! That's some serious reduction!
Dimitri Psaras of Neo Material Technologies Inc. illuminated a process that I have always wondered about, but never come close to understanding – customizing materials for end-users of the rare earths. His talk was entitled, "Development of Value Added Products: Differentiation Between Common and Performance Materials". He described how the structure of a molecule can depend on the chemistry applied, and that crystalline characteristics make a BIG difference. In other words, all oxides are NOT created equal – different customers require different molecules to meet their needs. Then he started talking about quantum dots… I'm going to have to learn more about that before I write about it! Kudos to Psaras, he really took us one step closer to understanding a complex (and often untold) part of the industry.
Unfortunately, the next speaker, Professor Zhou of the Baotou Research Institute of Rare Earths, was unable to attend, but Yan Wang gave his talk—"Magnetic Refrigeration Technology"—for him. Ms. Yan stated in the talk that, "NdFeB is an optimal magnetic field for magnetic refrigeration. Development of magnetic refrigeration materials needs Gd, La, Tb and Er metals". Countries that are currently pursuing this technology include:
USA
Japan
China
France
Canada
Switzerland
Denmark
Brazil
Spain
Italy
Korea
Russia
Slovenia
That's quite a list!
Anton Manych of Summit Atom Rare Earth Company (Sareco) spoke after lunch about "Sumitomo's New Rare Earth Project in Kazakhstan". Sareco hopes to be producing 15,000 tonnes per annum (tpa) of REO by 2015. The source feedstock is a combination of uranium (U) ore raffinates and monazite. Lots of work still needs to be done.
Robert Mackay of Stans Energy Corp. gave a similar speech to the one he gave in DC a few weeks ago about rare earths in Russia and the CIS countries (see my posting from that conference).
James Kenny of Frontier Minerals Limited spoke about their carbonatite project, Zandkopsdrift, in South Africa.
Jim Engdahl of Great Western Minerals Group and Trevor Blench of Rare Earth Extraction Co., Ltd. spoke about the South African project called Steenkampskraal. They predicted production by 2013 from monazite, and they say they are licensed to store the thorium (Th) underground.
Damien Krebs of Greenland Minerals & Energy described their project in Greenland. He spoke a bit about Greenland reviewing its uranium (U) policy, as the project has U that falls under the policy. Krebs also related information about the project's metallurgy.
As shot of the night market in Hong Kong: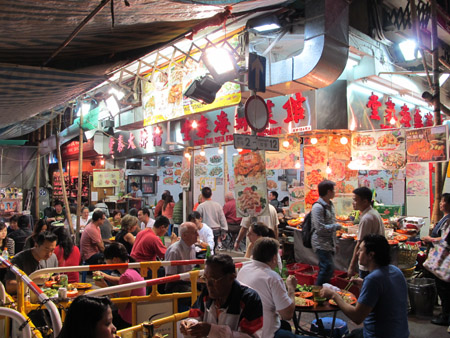 But we returned to business the next day for the finale…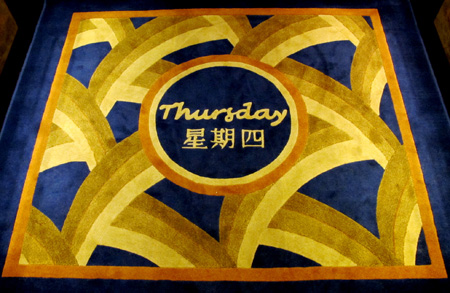 DAY THREE
David O'Brock of AS Silmet did a terrific job of detailing the rare earth separations operations in Estonia. He began by chronicling the journey of the rare earth-bearing mineral loparite from the mine in Russia, to Solikamsk, and then to Estonia. He made the point that facilities are important, but "If you don't have skilled people, they're just buildings".
One of the highlights of the Conference was the presentation by Dr. Zhanheng Chen of the Chinese Society of Rare Earths. He gave a frank and elucidating talk about the state of the rare earth industry in China. He showed the environmental issues surrounding mining operations in the north at the tailings pond outside Baotou, as well as pollution problems in the south with the ion adsorption clays. The need for consolidation was also explained.
Next up was Yasushi Watanabe of Institute for Geo-Resources & Environment, AIST speaking about "Japan's Search for Alternative Rare Earths Supplies". He explained the current status of the development of resources outside China that were being pursued by various Japanese entities, including:
Dong Pao (Vietnam)
Tailings of uranium deposits (Kazakhstan)
Pitinga (Brazil)
Indian placer (India)
Grass-roots exploration by JOGMEC

Ytterby (Canada)
Benson (USA)
Laocai (Vietnam)
Mabel Creek (Australia), etc.
Another interesting statement he made was that, "we will not need as much dysprosium in the future".
Professor Weidong Zhuang of Grirem Advanced Materials Co. Ltd. talked about the "Developments & Outlook for the Chinese Luminescent Materials Market". This was one of the most thorough talks I have heard on luminescent materials – much of it was way beyond my comprehension, but very informative (and nice pictures!).
Olivier Touret of Rhodia Rare Earths System has given some excellent talks in the past, and this was no exception. He gave "An Overview of Applications for Rare Earths". He listed the 4 driving markets for REEs as:
Auto Catalysts
Phosphors
Magnets
Polishing
Regarding the Chinese export quotas he stated, "It is not a surprise – it will continue". He emphasized that balance in the REE market is critical.
Greg Kroll of Magnequench Neo Powders Pty. Ltd. gave the final talk about "Bonded NdFeB Magnets: Technical Developments & New Apllication Growth". He gave a brief history, explained Neo powders, and heralded the advantages of weight and size reduction in many applications. He also defined the delineated some of the differences between bonded and sintered magnets. The bonded magnet business is currently about 1/10th the size of the sintered magnet market.
The Shangri-La, Kowloon: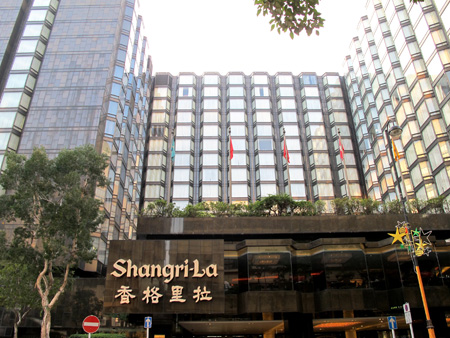 It was a fantastic week, and well worth the time to be there!
Special thanks to Rachel, Jill, Judith and all those involved in putting the conference together!