Rare Earth Rocks the Nation's Capital
By Clint Cox
October 25-27 marked the third occurrence of the Conference with the longest name in the rare earth industry—Infocast's Critical & Rare Metals Summit III: Rare Earths Outlook: Strategies for Managing Rare Earths and Lithium Supply Risk.
The Conference couldn't have come at a better time and place for the industry, with all of the questions and confusion over quotas, pricing, product availability, and newfound international political posturing. It was fantastic to gather and contemplate the current state of our favorite section of the periodic table – the rare earth elements (REE)!
With Washington DC as the backdrop, and about 100 participants from the government, end-users, junior exploration companies, investors, universities, and media, we began the Conference on Monday afternoon.
Although other rare metals were covered at this Conference, I will only be writing about the rare earths in the synopsis.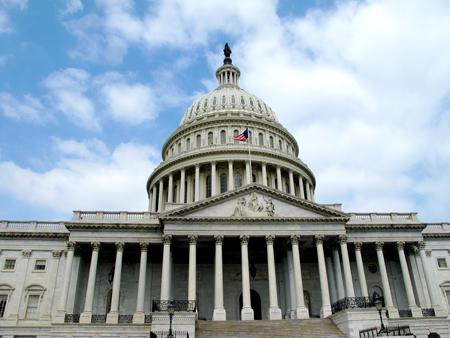 DAY ONE
Reka Sumangali of Lux Research spoke about solar, batteries, energy storage and wind in a talk entitled, "Global Demand Projections for Clean Energy Technologies". The most interesting point that she raised is that $4.5 trillion of products are dependent on rare metals (rare earths and other rare elements such as gallium, tellurium, etc.). I'm not sure how Lux calculated this stat, but it makes for a powerful quote! Sumangali also stated that Electric Vehicles usage will double in 5 years, but in China usage will not be as popular because China subsidizes gasoline (providing less incentive to drive an E-Vehicle. She also described some of the challenges that each of the clean energy technologies face.
Eric Noyrez, COO of Lynas Corporation, spoke eloquently about REE prices in "Rare Earth Metals Supply & Price Outlook". Noyrez is forecasting 2010 supply to be at 114,800 tonnes (t) with demand to weigh in at 136,100t (the shortfall here being 21,300t). By 2014, he predicts that supply will be 169,800t while demand will be 190,100t (a difference of 20,300t). One of my favorite quotes of the Conference came from Noyrez when he stated that, "The prediction of prices is a sure way to be wrong".
Robert Mackay, President, CEO & Director of Stans Energy Corp., presented his "Survey of Rare Earth Resources of Former USSR States". Mackay gave a history of Russian deposits, and spent a fair amount of time explaining his company's plan for Kutessay II in Kyrgyzstan. He did mention that their company was the first to get a new mining license after the recent coup.
DAY TWO
Bart Gordon, US Representative and Chairman of the Committee on Science and Technology, gave the Congressional Keynote Address to kick off day two. He explained that he had first learned of rare earth from the New York Times. He then went on to speak of the possibilities of R&D, exploration, recycling, substitution, loan guarantees, and the power of bringing people together to look at the rare earths issue – both within our country and between allies. It was an honor to have him at the event.
James Bacchus, Chairman of the Global Trade & Investment Practice Group at Greenberg Traurig, LLP; Former Chairman of the Appellate Body of the World Trade Organization (WTO); and Former Member, US Congress, followed Gordon with a riveting description of what the WTO can accomplish. Bacchus detailed the laundry list of ways that countries engage in protectionism including tariffs, taxes, quotas, non-tarriffs and technical regulations. He told us that there are 153 countries in the WTO and that it is a powerful tool that can directly affect change. One other point that was made was that no member of the WTO is required to exhaust their natural resources for the benefit of the world.
Diana Bauer of the Critical Metals Task Force from the US Department of Energy gave an update of the progress being made with the DOE's Critical Metals Task Force (which, we were informed, is still finalizing the DOE's Critical Materials Strategy). Bauer listed the elements they are targeting as lanthanum (La), cerium (Ce), neodymium (Nd), europium (Eu), terbium (Tb), dysprosium (Dy), and yttrium (Y). Their topics for strategy include:
Information
Financial Incentives
Research & Development
Education & Training
After Bauer spoke we moved on to a series of panel discussions. The first was broadly called "International Developments", and included brief talks from:
Robert Mackay (Stans Energy)
Seppo Nurmi (from the Delegation of the European Union)
Satoru Okubo (JOGMEC)
Atiq Sediqi (Afghanistan Ministry of Mines).
Nurmi spoke about the comprehensive raw materials strategy that the EU began looking at in 2008. He also stated that cerium (Ce) is abundant, but that there are shortages in La, Dy, Tb, and Nd. He stressed the need for more rules to ensure a level playing field.
Okubo elaborated briefly on the four-pronged approach that the Japanese are taking to securing REE supply moving forward:
Exploration overseas
Recycling
Researching alternatives
Stockpiling
Sediqi described rare earth-bearing carbonatite occurrences in Helmand Province and pegmatite fields in the Northeast of the Afghanistan. For more see http://www.mom.gov.af.
The next topic was "The Clean Energy Boom and Critical Metals Demand". The moderator was Keith Delaney from the Rare Earth Industry and Technology Association (REITA) and the panelists were:
Edward Becker (General Motors LLC)
James Greenberger (National Alliance for Advanced Technology Batteries)
Taylor Robinson (Northern Power Systems)
Michael Wozniak (General Electric Company)
Brian Wynne (Electric Drive Transportation Association)
Delaney introduced the topic with a short presentation, and then we got various bits of info from the group.
Becker updated us on the Chevy Volt and the process for sourcing materials and parts for the vehicle.
Wozniak gave some great detail on the various forms of lighting that are both available now and those being developed. When referring to supply issues for REEs, he did state that, "Any disruption could be critical". In a later discussion with Wozniak, he also stated that there are substitutes, but these are lower performing non-rare earth containing materials–customers and governments are shifting towards products with RE.
Mark Smith, CEO of Molycorp (our lunch sponsor) spoke just before lunch. He had just spent 5 days in China with senior government officials, and had a number of points to make from that trip:
China will not completely embargo the US & EU
Cutbacks on quotas will continue
China is trying to eliminate illegal mining
China is very transparent about industrial policy – they are trying to get manufacturing to move to China
China needs technology
Reducing the environmental footprint is a priority
China knows that costs will go up
Smith also advocated for a cooperative relationship with China instead of an adversarial one.
Smith also listed his 7 "Imperatives for Success" for the REE industry:
1. Diversity of supply
2. Greater international cooperation and coordination
3. Environmental stewardship in the production of REEs
4. REE knowledge infrastructure needs to be rebuilt
5. New applications for REEs
6. Emergence of vibrant recycling industry
7. More honesty about the basic facts of REE resources and production
I liked his quote, "Bad data breeds bad decisions". You can take that one to the bank!
DAY TWO (After Lunch)
Pierre Neatby of Avalon Rare Metals shared his thoughts on the supply chain by stating:
China wants to grow downstream manufacturing
Japan is the key player and China's largest REE customer
100s of REE exploration companies out there
Only 4-6 REE properties will come to production (2-3 will be HREE)
There is no separation capacity in North America
Michael Haueisen of Osram Sylvaia spoke of europium (Eu) and terbium (Tb) being their critical elements in some lighting products. He also mentioned that Osram will be making more phosphor in China.
Jim Kennedy of Wings Iron Ore, Inc. discussed a cooperative-style approach to refining rare earths in the United States, using grain cooperatives as a model with centralized facilities.
Alastair Neill of Dacha Capital said that Dacha is focused on holding physical REEs. He also alerted the audience that, "The Chinese have woken up to what power they can yield".
Shuk Rashidi of Tridus Magnets stressed the importance of "Balance, balance, balance" in the rare earth marketplace (referring to keeping supply and demand in balance for each of the individual elements).
Tracy Weslosky of Pro-Edge Consultants moderated the next panel entitled, "Equity and Investment Banking Perspectives on Opportunities in the Rare Metals Value Chain". This is a hot topic, as ever-increasing amounts of capital are flowing into the sector for investment.
Byron King of Agora Financial, LLC proclaimed that he would rather take a medium-good ore body with good management over a great ore body with bad management. He also said that investors want REE companies, so that's what they are being given.
Jon Hykawy of Byron Capital Markets gave his 3 criteria for evaluating a rare earth project:
1. In situ grade—higher the better
2. Mineralogy—can you extract it economically?
3. Location
Hykawy also stated emphatically that rare earths are "in a bubble".
Patrick Pittaway of URAM SA compared today's REE market to that of the uranium (U) market of 2004. He also stated that only 4 or 5 REE companies will get to production.
DAY THREE
Wednesday morning started with a fantastic panel called, "Technology Options in Addressing Rare Metals Supply Challenges" moderated by King.
Steven Duclos of GE Global Research placed one of the best charts I've seen on the screen for his discussion of supply chain issues. The x-axis contained three columns labeled "Sourcing", "Manufacturing", and "Engineering/R&D". Under sourcing he had methods such as diversification and hedging; under manufacturing he listed options such as use of recycled materials and minimizing use of at-risk materials; and under engineering/R&D he had items like material substitution and designing for ease of recycling.
Peter Dent of Electron Energy Corporation shared some great perspective on the magnet market. He mentioned that the Japanese are doing a lot of research on technology to reduce the use of dysprosium (Dy) in NdFeB magnets. His most salient point was that his company has an extremely difficult time finding qualified technicians and engineers who are from the USA.
Gareth Hatch of Technology Metals Research, LLC had some great quotes. Even though it has become increasingly clear that the US has lost some of it's dominance in the REE space, Hatch stated that "There are pockets of excellence in the United States" and that "It's not so much the money, as the right people that matters". I'd say he's on to something there! He also briefly touched on the disconnect between the academic and industrial communities.
Keith Delaney of Rare Earth Industry and Technology Association (REITA) gave a comprehensive talk labeled, "Challenges Facing New Global Rare Earth Separations Plants", in which he described both supply chain issues and the difficulties in solving technical and commercial issues in a viable way.
In the last set of presentations Yaron Vorona of the IAGS TREM Center gave an overview REEs in Defense applications, and reminded the audience that the Department of Defense REE survey is due out soon.
Jeffery Green of J.A. Green & Company gave the final presentation of the conference (and it was excellent and very well received). He helped the audience to understand how Washington works, and how the rare earths have been perceived and approached by the various agencies in DC.
Overall, it was an exceptional conference, especially for hallway conversations and the presence of industry players, government groups, analysts, and junior exploration companies.