Conference Conucopia: Part 1, SME & PDAC
By Clint Cox
My first rare earth conference of the year was an investment bank conference in Australia in Early February – since then it has been an endless barrage of rare earth conference mania!
The SME, Phoenix, February 28-March 3
The Society for Mining, Metallurgy & Exploration (SME) had three technical sessions that included the REEs—one session on March 1, and two on March 3. At the conference, there were almost 5000 attendees and over 600 booths. The sessions were well attended, and there was also a cocktail party for the rare earth community.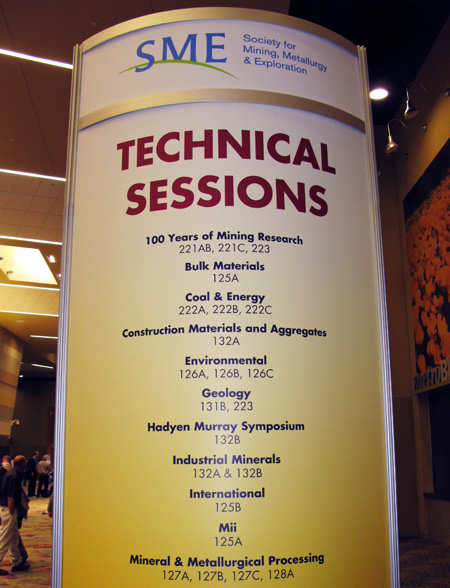 Here is a brief look at the three sessions:
Geology VI: Strategic Minerals and Materials: Harder, Better, Faster, Stronger.
James Hedrick's talk was entitled "Rare Earths in Defense Applications".
Cheryl Seeger gave a talk about REEs Missouri called "Mineralogy and Geology of the Southeast Missouri Iron Metallogenic Province".
Geology IV: Rare Earths: Extraction, Application and the Market.
Ed McNew presented an excellent talk on processing named, "Mineralogical Considerations in the Processing of Rare Earths Ores to Concentrates". This talk was chock full of images that showed quite clearly some of the issues surrounding the processing of the REEs. He also discussed many of the instruments used in identifying minerals and their critical properties for processing.
Les Heymann gave one of the best talks I have ever heard on evaluating rare earth deposits in "The Valuation of Rare Earth Deposits". He described the difference between Light Rare Earth Element (LREE) projects and Heavy Rare Earth Element (HREE) projects, and the issues of balance that pertain to both. He concluded that NPV is a good way to evaluate REE deposits.
Stan Trout gave a really informative talk entitled "Rare Earth Permanent Magnets: Raw Materials, Magnets and Opportunities". Trout is one of the leading experts in the field, but he is also a professor so he has gotten very good at communicating the complexities of the subject in a fun and very informative fashion.
Dudley Kingsnorth was unable to attend the conference, but he graciously allowed me to give his talk, "Rare Earths: Facing New Challenges in the New Decade", in his absence. As usual, Kingsnorth's presentation was replete with fantastic charts—including an update of the legendary "Dudley Chart". He also had several slides explaining the 10 steps to commercial rare earths production.
Geology V: Rare Earths: Geology & Exploration
Don Ranta presented "Exploration and Evaluation of the Bear Lodge Rare-Earth Project, Wyoming", giving the audience a useful update on progress being made at Bear Lodge in Wyoming.
Harmen Keyser did an excellent job detailing the rare earth project at Bokan Mountain in his talk, "The Bokan Mountain REE-U Deposit, Prince of Wales Island, Alaska".
Dr. Anthony N. Mariano gave an illuminating two-part presentation entitled "REE Deposits on a World Level – Real and Potential: Parts 1 & 2". In this talk he touched briefly on historic resources and minerals, as well as potential for future deposits around the world.
In addition to these sessions on REEs, there were also several other talks given on rare earths in other sessions, including two by Mark Smith of Molycorp Minerals LLC, and one by Jim Kennedy of Wings Enterprises.
PDAC, Toronto, March 7-10
For the first time I have been to the PDAC, the weather in Toronto was actually quite nice in March! There were about 22,000 attendees and about 1000 exhibitors. The size of this conference is staggering.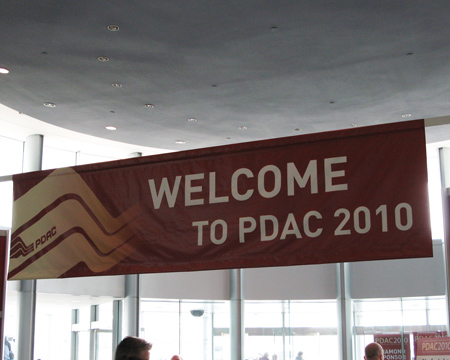 Two years ago I wandered the exhibit halls trying to find anyone who cared about rare earths. I didn't find many. This year "rare earth" was the watchword. What a difference!
Rare earths arrived at the PDAC in style with two cocktail parties (each attended by over 100 people), one power breakfast (standing room only), one exchange forum session, and one technical session (jam-packed, with folks waiting outside).
The number of junior exploration companies looking at this space has exploded. Boom. Seriously — there are now hundreds of hopefuls, but very few who know what they are doing. Rare earth geologists (the very few that there are) are now experiencing celebrity status.
The hooplah is overshadowed by hype, but the hype is most certainly bypassed by the ballyhoo!
How long this will last is anybody's guess, but it's fairly entertaining for now.
More to come on the TREM in Washington—lots happened here, so I want to spend a little more time on it.