Rare Earths at Center Stage: Happy in Hong Kong
By Clint Cox
Metal Events Ltd's "5th International Rare Earths Conference" was held in Hong Kong in November 17-19, and was attended by about 170 delegates – a new record for the event.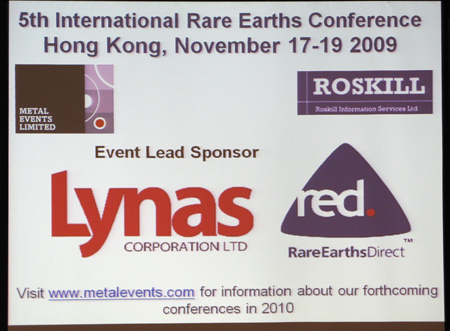 While the delegates engaged in lively discussion over many topics, most seemed to agree on one thing – 2009 was "the year of Rare Earths".
It was revealed that the conference organizers had contemplated canceling the event earlier because of the questionable economy. What a difference a year makes! Rare earths are now basking in the gleaming shine of the world media, and the REE sector has become an investment darling.
The delegates were a mix of end-users, producers, processors, analysts, researchers, media, junior exploration companies, financiers, and consultants. There were people from all over the world – a testament that this conference is truly a draw for the industry.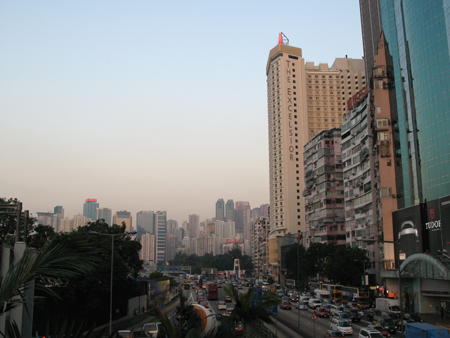 The Excelsior Hotel, home of the 2009 Conference
Let's get right to the luscious content:
Nicholas Curtis of Lynas Corporation threw down the gauntlet in the first talk with several dandy quotes:
"The marginal cost of production has been reached in China"
"The light rare earths are actually the ones in shortage"
"Illegal production from the south – that's what the industry is relying on"
"Grade is king"
"You're not looking for a rare earth project, but a bastnaesite project"
This last quote about bastnaesite begs for some context. Curtis was talking about the environmental liability of thorium and uranium (he referred to them as the "actinides" – but these are the actinides typically found with REEs). He stated that only bastnaesite had very little of the actinides, implying that this made it the premier target mineral. This is a fascinating statement, as Lynas has a supergene monazite project at Mt. Weld and a monazite project at Kangunkunde. Curtis is a compelling speaker and provides fantastic sound bites though!
Both Curtis as well as Mark Smith of Molycorp Minerals LLC (see below) emphasized the importance of environmentally sound mining practices.
Ms. Huang Xiawei of Grirem Advanced Materials Company Ltd. gave a technical, yet absorbing talk regarding processing in China entitled: "Progress of the High-Efficiency RE Extraction & Separation Technology in China".
Mark Smith of Molycorp stated that his company's goal was "to be the low cost producer in the world". He gave an eloquent presentation updating the crowd on the present status and future possibilities of Mountain Pass. Two quotes from Smith:
"Ore grade is king"
"The ability to process is very, very critical and very, very complex"
Dudley Kingsnorth of IMCOA presented "Meeting demand in 2014: the critical issues". Kingsnorth walked us through the road to commercial rare earths production, including the following steps:
Prove Resource/Reserve
Define Process – Bench Scale
Pre-Feasibility Study
Beneficiation
Extraction of Rare Earths
Separation of Individual Rare Earths
Obtain Project Environmental Approval(s)
Letters of Intent
Complete Bankable Feasibility Study
Construction and Start-up
He went into greater detail on each of these steps, and it was very informative. Two quotes from Kingsnorth:
"Each ore body is unique"
"There is a looming shortage of dysprosium, terbium, and yttrium"
Kingsnorth also pointed out that the coming climate conference in Copenhagen could have a dramatic impact on the future of the rare earth market, depending on if/what policies are decided upon.
An excellent review of the Chinese REE industry was written by Ms. Song Honghang and presented by Wang Yan of the Baotou Research Institute of Rare Earths, and was entitled "A review of the Chinese rare earths industry – the past 60 years". Ms. Wang gave the production tonnage of separated rare earth products from China starting in 1978 at 1000t and finishing in 2008 with 130,000t. That's a serious increase in production!
Mick Muir of Arafura Resources gave an update on the Nolans Bore project in Australia. Muir indicated that they are targeting a 2012 production date and are seeking strategic partners.
Keith Delaney of the Rare Earth Industry & Technology Association (REITA) described how REITA wants to play a role in the juncture between government, industry, and academia. Delaney spoke about the importance of global supply chains.
Donald Ranta of Rare Element Resources gave an update of the Bear Lodge REE/gold property in Wyoming. Ranta focused on the bastnaesite-group minerals found in the oxide zone at Bear Lodge.
Don Bubar of Avalon Rare Metals gave an update on the Nechalacho (formerly known as the Lake Zone at Thor Lake). Bubar said he expects a new 43-101 resource estimate in January 2010.
Matthew James of Lynas Corporation provided a nice walk through of progress at Mt. Weld and the plant in Malaysia – including a fancy (and informative) fly through video presentation of the plant.
In a new format, five junior exploration companies were each given 10 minutes to detail their projects. Companies that presented were
Alkane Resources (Dubbo Zirconia Project, Australia)
Frontier Minerals Ltd. (Zandkopsdrift, South Africa)
Greenland Minerals & Energy Ltd. (Ilimaussaq, Greenland)
Mongol Gazar LLC (Mushgai Khugad, Mongolia)
Rare Earth Extraction Co. Ltd. (Steenkampskraal, South Africa)
The most memorable quote (and most refreshing) from these presentations came from Trevor Blench of the Rare Earth Extraction Co.:
"We are the smallest rare earth project in the world"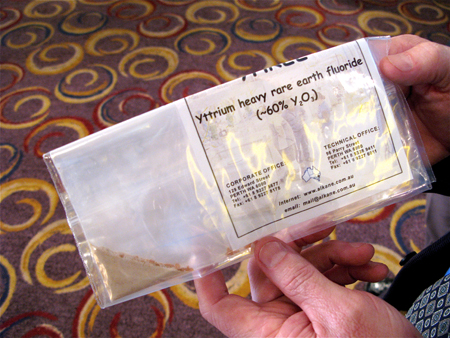 Ian Chalmers of Alkane reveals actual rare earth concentrate!
Geoff Bedford of Neo Material Technologies Inc. gave an excellent description of the current status of both the rare earth market and his company. He provided fresh information regarding Neo's purchase of Recapture Metals and their Pitinga Project in South America. He prefaced the Pitinga update by stating, "We are not miners", and then went on to describe their collaborative efforts on the project.
In "A review of rare earth applications and innovations", Olivier Touret of Rhodia Electronics & Catalysis furnished one of the best slides of the conference. He used an exceptional graphic to show the various kinds of hybrid vehicles, their CO2 emissions, and the additional manufacturing costs associated with each type. Touret also illustrated REE polishers. Riveting work!
Hidetaka Honyro of Iwatani Corporation gave "An overview of the Japanese rare earths industry". He catalogued Japanese REE demand for specific elements (especially Eu, Tb, Dy, Y, Nd, and Pr), and shared some excellent data.
Takehisa Minowa of Shin-Etsu Chemical Co. Ltd. presented a talk about neodymium (Nd) magnets. He used compelling graphics to explain the difference in strength of various types of permanent magnets – ferrite, alnico, SmCo, and NdFeB. The bottom line here was that NdFeB magnets are about 10x the strength of ferrite, but also about 10x the cost! However, if you want to save weight (which is the primary goal in many technology developments), you've got to go with NdFeB!
David Kennedy of Great Western Minerals Group also spoke about rare earth magnets. My favorite phrase of the day was revealed here: "residual flux density". Kennedy delivered superb information on the composition of magnets, as well as a description of the ability of how individual rare earth elements enhance performance.
The final talk was given by Judith Chegwidden (co-written with Robert Baylis) of Roskill Information Services Ltd. Chegwidden addressed NiMH versus Li-ion batteries for the electrification of cars. This is currently a hot topic, and she proved her thorough grasp of both technologies.
This conference was a great way to finish a great year in the REE market.
Please feel free to contact me through the "Contact" page if you have any questions or comments.
Special thanks to Jill Fitzgibbon and Rachel Carnac for putting together a marvelous conference!