The Rare Earth Market Begins to Sizzle
By Clint Cox
With this post, I will try a new format. I will attempt to to give brief excerpts of Rare Earth news with links and brief commentary. Please feel free to leave feedback in the "Contact" section.
In the midst of relatively stagnant rare earth element (REE) prices and an uncertain economy, several deals have emerged to mark a massive shift for the rare earths industry.
China is actively pursuing more REEs. Downstream companies are moving up the stream. And the market is being smacked with surprises on a regular basis!
Let's get right to it:

"Rare Earths" the Hot Topic at Vancouver Show
Before the Cambridge House Conference June 7-8, several newsletter writers began to cover the rare earths. Some of their pronouncements made a big splash in the Canadian junior exploration market — affecting stock prices dramatically to the upside. Then the Vancouver show had no less than four speakers mentioned rare earths from the podium during their talks. Instant sizzle! Suffice it to say that there will be many new rare earth companies in the coming months as new players wade into the water to ride the wave. Don't get me wrong, there may be some very interesting projects that come forward, but there will be (and is) some ugliness.


Chinese Company Buying Majority Stake in Lynas Corporation
In February of this year, Lynas Corporation Limited (ASX: LYC) suspended their Mount Weld project due to "uncertainty concerning the financing structure". This suspension was primarily due to bondholders refusing to release funds to Lynas. They were eventually able to settle with the bondholders, but Lynas didn't receive the hoped for amount.
Many investors were looking to the Mount Weld project as the great hope for the industry, a non-China resource with the possibility for near-term production.
The big question in the industry has been "Where will Lynas get the money to complete their project?" A number of people speculated that they might turn to China, and indeed they did!
From a May 1, 2009 Lynas Press Release:
"Lynas Corporation Limited (ASX: LYC) is delighted to announce the introduction of a proposed new majority shareholder, China Non-Ferrous Metal Mining (Group) Co., Ltd. (CNMC)."
The Chinese will end up with 51.6% of Lynas, and will provide needed capital and assistance with acquisition of proper financing for the project. Much of the sales-pitch for Lynas has been based on having a REE resource outside of China. However, now the project will be under majority Chinese ownership — this is an interesting twist, to say the least! The Lynas board will now be made up of eight members – the four existing plus four appointed by CNMC. Nicholas Curtis is to remain the Executive Chairman and will have the casting vote. The Chinese are intimately familiar with this industry, and they have piqued our interest to follow what they will do with Mount Weld.
Lynas now says that they hope to be in production within 12 months of receiving their financing (in the amount of US$366 million).
How this will affect the market is, as yet, unknown. But it is clear from this deal, and the one below, that the Chinese are very serious about extending their position in the marketplace.
Chinese Buying into Arafura
Arafura Resources Ltd (ASX: ARU) of Australia recently signed a deal with a subsidiary of East China Exploration & Development Bureau (ECE) that gives ECE a 25% stake in ARU in exchange for approximately $17 million.
ARU's Nolans Bore project is a fairly complex undertaking that will attempt to bring four separate products to market:
1. rare earths
2. phosphoric acid
3. uranium
4. calcium chloride
The REEs are slated to bring in the lion's share of the revenue, but the other products will be critical to the success of the project.
The capital cost for the project is expected to be in the US$100s of millions.
The rare earth-bearing minerals at Nolans Bore will skew towards the lighter end of REE distribution. They are reporting a resource (including measured, indicated, and inferred) of 30.3 million tonnes at 2.8% rare earth oxide (REO).
The key for this project moving forward is to see how ARU raises the capital necessary to complete this project.
Vietnam Gets into the Game
Toyota Tsusho Corporation, a trading house affiliated with Toyota Motor Corporation, cut a deal late last year with the state-run mining agency to develop the Dong Pao rare earth deposit in Vietnam.
This site has some good potential, and they expect to be producing 5000 tonnes annually starting in 2011. The rare earth-bearing mineral in this deposit is bastnaesite – the same mineral that was mined at Mountain Pass (mentioned above) and is currently mined at Bayan Obo in China.
This deal affirms that there are deposits "off the RADAR" that may make an impact in the industry
The interesting thing about this one is that the industry has been watching the usual public companies in North America and Australia, and this site may come to production before most (all?) of the others.
NeoMaterials Extends Their Reach
NeoMaterial Technologies Inc. (TSX: NEM.TO) recently signed an agreement with Mineracao Taboca S.A. to investigate the potential of producing a commercially viable heavy rare earth concentrate from Taboca's tin mining operations at Pitinga.
The rare earth-bearing mineral at Pitinga is xenotime, which has a favorable distribution towards the heavy rare earths.
NeoMaterials is a significant player in the REE industry. They make a variety of REE oxides and magnetic powders, and employ approximately 1,300 employees in a number of facilities throughout the world. With this deal, it seems that they are hoping to reach back upstream and secure their own supply of concentrate.
This Week's Picture: Carbon Coating!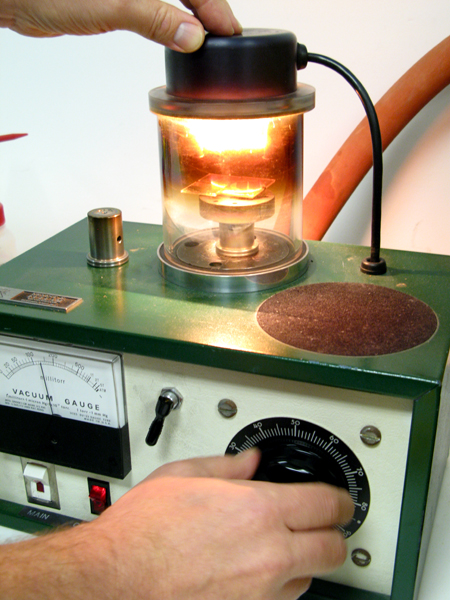 Thin sections (rock samples cut into a wafer thin block) are used for a variety of identification methods. One instrument used to identify REE minerals is the Scanning Electron Microscope (SEM). Before thin section samples are placed in the SEM, they are coated with carbon by burning up some filament in a vacuum. That's hot stuff!