Digging at Deep Sands for Rare Earth Elements
By Clint Cox
Great Western Minerals Group and Titan Mining Group LLC hosted a group tour of their new Deep Sands project on 25 February 2008. There were a number of us present at the SME conference in Salt Lake City, and since it is only about 3 hours away, they offered a one day excursion to the site:

The picture above shows the site from the east (looking west). The site includes almost the entirety of what you see from left to right at the foot of the mountains.
John Pearson, VP of Exploration for Great Western, discussed the site location on a map: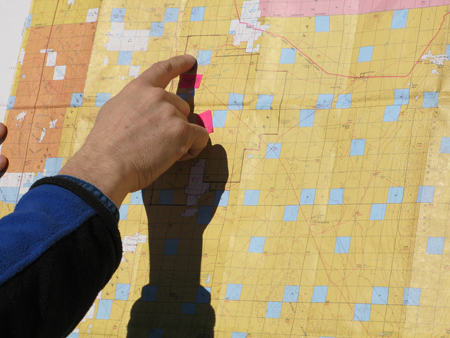 The site is vast — over 66 square miles and is a joint venture in which Great Western holds a 25% interest in the REEs (they can earn a 100% by completing the necessary work for a Preliminary Economic Assessment Report, determining a fair value for the property and entering into a definitive purchase arrangement). Titan holds the remaining interest. The area includes much of the Lake Bonneville paleo beaches, so they will be looking for REEs in sandy material — not hard rock. Random samples have shown the area to have from 0.14% to 0.80% TREO.
They have just begun work at the site, but they were able to show us several holes with magnetite showings (that also have monazite) and also two outcroppings.
The first hole: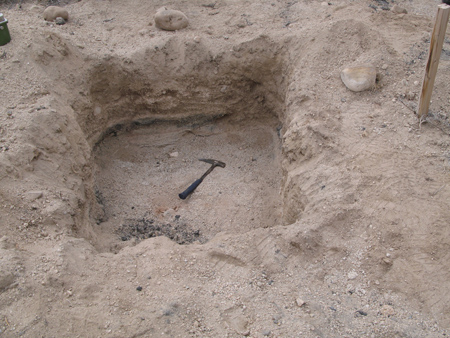 The blackish layer near the bottom of the pit is the magnetite layer. Because this was during the SME conference, we had excellent commentary about the geology and markets from a diverse group of knowledgeable REE sources.
From this hole we drove across the property to observe an outcropping. After that we had lunch and then journeyed to a second, larger outcropping:

At this point, several of us climbed the side of the hill, dug a hole, and took samples of the sand: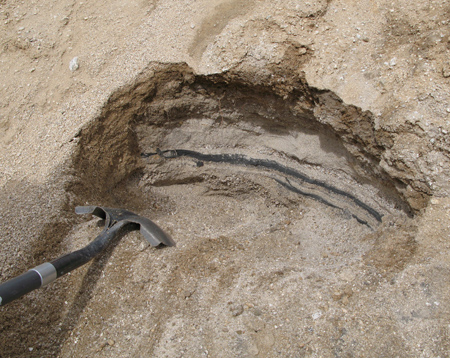 Once again, we are looking for the dark layers of magnetite.
We spent a few hours on site, and then headed back to Salt Lake City. Perhaps the most entertaining part of the day was a short stop at a rock shop in Delta, Utah, on the return trip. It can be a load of fun to see a van load of geologists and rock hounds descend on the local rock shop at closing time!
Deep Sands is in the very early stages and there is plenty of work to be done, but we will be following the progress of the project as they explore further and look for areas of concentrated REE.
Thanks to Great Western and Titan Mining for a great day in the desert.