On Site at Hoidas Lake
By Clint Cox
I visited the Great Western Minerals Hoidas Lake project on August 16th: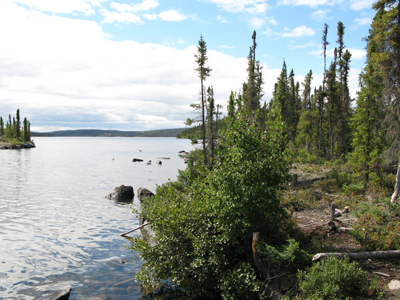 Gord Dent of Great Western has played a pivotal role in my realization of the importance of rare earth elements (REE). After I began my study of REE, Gord was the first person I ever spoke with in person about the rare earths. He showed me the elements in the physical form for the first time, and I visited the Great Western Plant in Troy, Michigan–so it was a great pleasure to accept the invitation to see the Hoidas property. Thanks, Gord!
A group of us met at the corporate offices the morning of August 16th ready to go. There were investors, brokers, a reporter, and company representatives. We went to the airport and took a smallish plane to Stony Rapids, stopping to refuel once on the way. In Stony Rapids we took a bus to a Twin Otter float plane which was waiting for us dockside. From there we flew over some beautiful country and then landed directly on Hoidas Lake.
Richard Hogan, the Vice President of Operations, gave us a short talk explaining the project and giving us key points to keep in mind as we toured the site. Also quite helpful was Kimberly Halpin, a masters student who is researching Hoidas for her thesis — we look forward to reading her final analysis in the future.
Next we went to a clearing where we could see some drill holes and trench work (marked by the orange tape across the left side of the picture):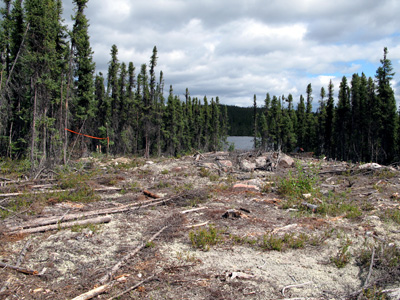 When looking in the trenches the apatite and allanite were visible as pinkish rock and dark green / black rock, respectively. They knocked off some samples for us so that we could see the fresh rock and have some genuine Hoidas souvenirs.
From there we took a look at some core samples: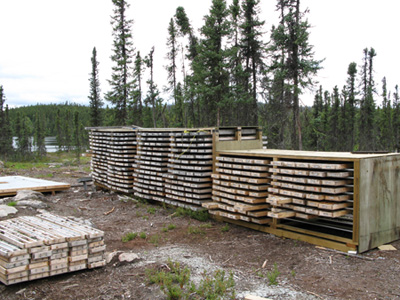 The apatite: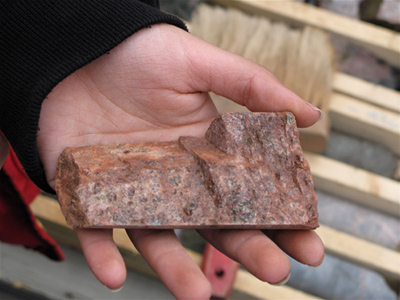 The allanite: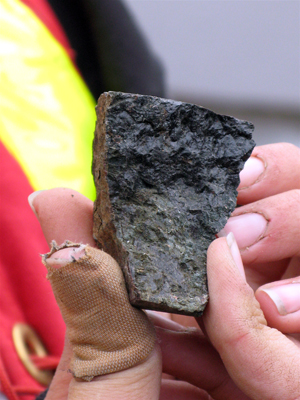 After this we had another look at the map which showed current drill holes, as well as a chart of the distribution of REEs at Hoidas.
It was an excellent trip that offered plenty of insight and a good sense for both the upside and challenges presented by Hoidas Lake.