Metal Events Ltd.'s 9th International Rare Earths Conference
By Clint Cox
Last week in Hong Kong, on November 12-14, Metal Events held it's annual Rare Earth Conference.
About 200 delegates participated in this year's big event. There was representation from all over the world, and across various parts of the industry. Hong Kong was a bit rainy this year, but we didn't let that dampen our spirits regarding the tremendous opportunity for spending time with industry experts and trying to understand the current state of the rare earth market.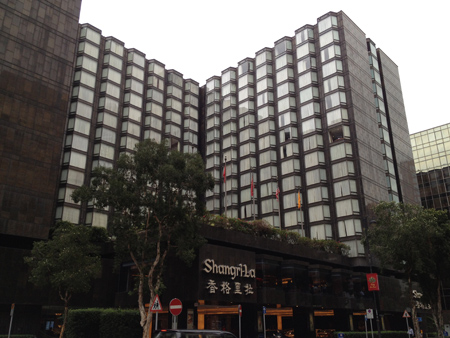 The Venue: Shangri-La Hong Kong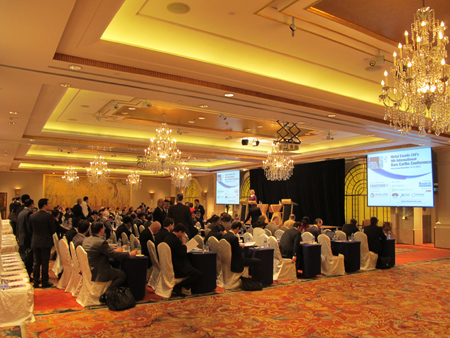 Inside the Conference Hall
Now let's get to it!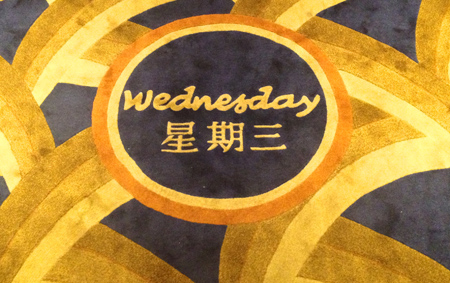 Elevator carpet on first day
DAY ONE
Constantine Karayannopoulos, President/CEO of Molycorp Inc. presented the keynote address, and he didn't disappoint! He is always full of excellent quotes and market insight. Some of my favorites from the talk:
"We're all serving the industry, we have very little control."
"The industry has had to live with a crisis of confidence that was unprecedented."
"Our job is to return confidence to the industry."
Karayannopoulos went on to emphasize the need for "Predictable pricing so that there are no more shocks or rude surprises in the industry". This is critical, so that end users will have the confidence to stay with rare earths for the long term. He provided some excellent historical perspective, calling 2001-2005 the "dog days of rare earth" and stating that 2004 may provide a good sense of a floor on pricing (if inflation and currency appreciation are factored in).
Over the years, Karayannopoulos has spoken about the importance of the magnetic rare earths: praseodymium (Pr), neodymium (Nd), dysprosium (dy), and terbium (Tb). He stated that these elements remain critical, and will be the basis of the industry moving forward.
Judith Chegwidden, Director, Roskill Consulting Group presented "A review of key developments in the Chinese rare earth industry in 2013". This was a fantastic talk with a well-informed perspective on the Chinese REE industry, including the players involved and a great snapshot of data. One of the most profound statements she made was regarding the impending World Trade Organization (WTO) decision about rare earths. She said that, "The WTO decision is largely symbolic". This is because the rest of world (ROW) demand has been declining.
Clovis Antonio de Faria Sousa, Production Superintendent, CBMM gave the talk "CBMM's rare earth process & products development". It was fascinating to hear the details about the rare earth potential of the Araxa project in Brazil, which has been the most significant niobium (Nb) mine in the world. While pyrochlore is the Nb mineral, the target REE mineral is a monazite. His most interesting statement was that CBMM would not stop this process, but would continue with REE processing regardless of what the market does, as REE is a by-product, and they will continue mining Nb for the foreseeable future.
Yasushi Watanabe, Prime Senior Researcher, Institute for Geo-Resources & Environment, AIST spoke on "Japan's search for alternative rare earth supply – from recycling to the seabed". Watanabe is a brilliant resource of knowledge with respect to the Japanese market for rare earths. He provided statistics to show the consistent decline of both Japanese REE demand and Japanese imports since 2008. Between 2010 and 2012, there was a substantial decline in cerium (Ce) imports due to the efficiencies created in the polishing industry in the wake of the 2010 crisis and the following 2011 price spike. Across each segment of the REE market there have been substitutions, more efficient methods employed, and decreased usage in applications that have all substantially lessened demand. Watanabe also described expectations for new sources to come into the market by 2013-2014. His list included:
Mount Weld
Mountain Pass
Placer sands from India
Uranium deposit from Kazakhstan
Bauxite deposit from Jamaica
He also listed a variety of "On-going exploration and scientific projects".
Pavel Detkov, Director of Polyfer Handels GmbH, presented "Developments in the CIS rare earths market". I have heard Dr. Detkov speak before, and he has a tremendous grasp of REE projects in the CIS countries. He has a knack for telling it like it is with admissions such as, "All projects are late", and calling the location of Tomtor "the coldest place on our planet". This is refreshing in an industry that likes to sugar-coat the bland, the sweet and the sour alike! His list of potential CIS rare earth projects is exhaustive, but he chose to focus on a few projects and their activities and potential – especially in the Kola Peninsula.
Junior REE Companies
The following junior resource companies presented after lunch on the first day:
Frontier Rare Earths Limited
Avalon Rare Metals Inc.
Alkane Resources Ltd.
Matamec Explorations Inc.
Hastings Rare Metals
Rare Element Resources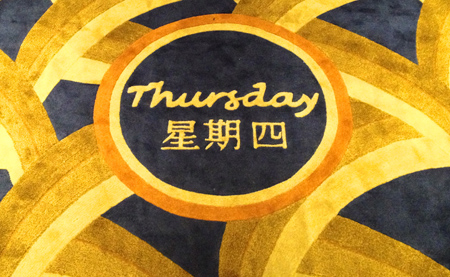 Elevator carpet on second day
DAY TWO
Xu Tao, Vice President of Baotou Research Institute of Rare Earths, was unable to attend the conference, but the talk, "Processing and utilization of rare earth solid waste" was still presented. Waste residues of polishing powder usage and waste residues of rare earth permanent magnet production was discussed at length. Chemical compositions of the residues were very interesting showing 27% of NdFeB residues were REO and 34% of SmCo residues were REO. It was then discussed (very technically) how rare earths could be recovered from the residues.
Karin Soldenhoff, Manager Process Development & Research, ANSTO Minerals gave an illuminating presentation regarding "The impact of radioactivity on rare earth processing". I would never have imagined that a description of the decay chain of uranium (U), thorium (Th), and their progeny could have been helpful to a layman (such as myself), but the talk simplified a very difficult subject matter so that even I could understand it (at least a little). She clearly explained safe levels of radioactivity.


The next talk was "Preparation and application of rare earth sulphide for pigments", by Liu Jiangang, President, Hongbo (TE) Technology Co Ltd. Environmental pigments were described in detail during this presentation. Also, grinding materials, rubber additives, and monomer rare earth sulfides were discussed.
After that, the presentation was "Chinese rare earth applications in environmental catalysts", by Jia Liwei, Chief Engineer, Wuxi Weifu Environmental Catalysts Co Ltd. This presentation was given in Chinese without translation so I'm not entirely clear what was said, however, some of the slides were translated. From what I could tell, it was a very detailed presentation regarding auto catalysts. The rare earths mentioned were Ce, Pr, La, Nd, Sm, and Gd.

The final presentation was given by Sue Shaw of Roskill Information Services Ltd., "The impact of rare earths price volatility on substitution". Shaw gave an excellent overview of the recent rare earth market, and provided plenty of data and charts to enhance the presentation. The specific applications that she focused on were:
Permanent Magnets – showing reduced consumption in some applications, but still critical in others
Phosphors – HREEs are still critical but being used more efficiently, LED will use less REEs, and warm light LEDs may use more Lu
FCC Catalysts – Manufacturers of FCC developed lower REE catalysts during price spike, but now have quickly switched back to higher REE products now that Ce & La prices have returned to lower levels
It was an excellent event, as always, and the organizers provided ample time for mingling and chatting between sessions. These breaks were great times to catch up, compare notes and learn from some of the best in the industry.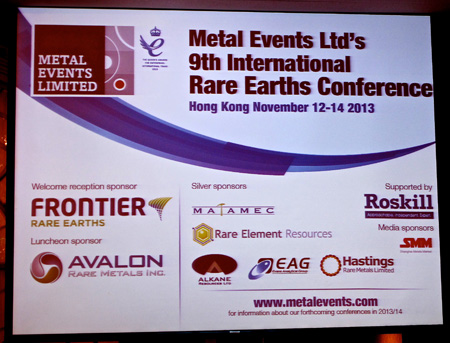 Special thanks to Metal Events as well as Roskill (for supporting), and all of the event's sponsors!